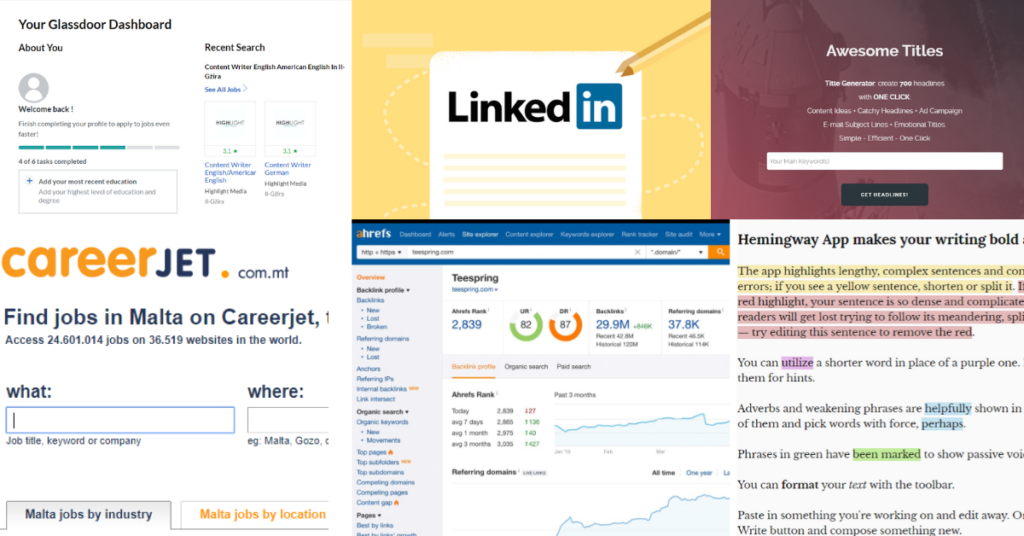 Content jobs in Malta (as iGaming jobs) are very eagerly sought-after, as they offer employment within a creative sector and can open the door to numerous career development options. One of the biggest attractions of this sector is the fact that it offers a diversity of opportunities. If you are looking for content writer jobs in Malta, you will probably first want to identify the language you specialise in. The most popular languages are English, Swedish, German, Finnish, Norwegian and Japanese, with some occasional openings available for Russian, Spanish and Italian.
Content writer jobs - sports or casino?
The next big decision you should be taking is which area of content writing is your biggest strength. Content writer jobs in Malta within the iGaming industry are typically divided into Casino and Sports. Each area comes with different expectations with respect to the level of experience and knowledge needed. So, which topic makes you tick? If you are applying for a content writer job in sports, you will need to have a genuine passion for sports and a thorough knowledge of the way sports betting works.
Sports Writer
Remember that this is a highly specialised sector that comes with an intense level of competition, so anyone with a less than thorough knowledge of market trends will certainly not survive. You will find that most sports content writers live and breathe sports betting, taking a personal interest that goes beyond the professional requirements. So, if you are seriously into sports betting and you have a witty way with words, this may really be the perfect job for you.
Content Writer
If you're thinking of applying for the role of content writer casino, the requirements are very similar to those of sportswriter. Casino experience and a good knowledge of the topic is always desirable, and you will need to have a personal interest in slots and gaming. So, if you enjoy immersing yourself into the world of online casino and researching new games and casinos, this will certainly go a long way towards getting you a step closer to securing a good content writer job in Malta.
The good news is that the topic is an interesting one, and also relatively easy to become familiar with. You get extra bonus points if you have actually tried your hand at spinning the reels on a few games, as this really places you into the players' mindset and will help you create the content they need.
Tips when applying for Content Writer Jobs in Malta
Make sure your application letter stands out: At the risk of sounding too obvious, the most important skill you need is an aptitude for writing, and this is something that needs to shine through from the very first time you communicate with a recruiter or a potential employer. So, basically, you need to send in a super-engaging letter of application that grabs their attention and helps you stand out from the dozens of other similar applications that will land on the desk of HR or the talent acquisition department.
Don't be scared to add some of your personality: Keep in mind that the person who is in charge of shortlisting these applications is likely to get bored reading the same pitch over and over again. On the other hand, if you manage to spark their interest or curiosity, then you already have a higher chance of scoring an initial interview. How to set about achieving this is something that you will need to decide for yourself. Consider your writing style and your biggest strengths. Are you good at playing with words? Can you introduce some witty descriptions that will make them sit up and take notice? If the answer to that is yes, you have already proven to possess the basic skill for the job.
Show a passion for writing and about iGaming in general: A great application is not enough, of course. Even assuming that you sail successfully through your interviews and get a job offer, once you're on the job you will need to prove that you have the right skills to be a good content writer. If you are genuinely passionate about writing and you work at becoming an expert in your chosen area, you should have no problem achieving this. The list of skills needed to be a great content writer is not too long - but every item on the list is very important. Below, you will find a summary of what an employer within the iGaming sector will expect upon offering someone a content writer job in Malta.
Use an engaging style that keeps the reader interested: This is the most basic requirement and one that you will be required to prove immediately at interview stage. If you feel that writing is an effort, then this is definitely not the right job for you. Look at it this way - you will be spending the majority of your day writing, so you need to be very comfortable with it.
Make sure you research your topic: As a content writer for an iGaming company, your job is to provide information to customers. Whether you are writing about betting odds for the next football match, a review for a new casino, or a description of a new game, your job is to present accurate information in an entertaining manner. Think of it as journalism for iGaming. To succeed in this, you will often be required to carry out in-depth research about the topic at hand - the more you know about what you are writing, the better your writing will be. If you are not willing to take the time to gather the correct knowledge, your skills as a content writer will definitely suffer.
Show attention to detail: It is the responsibility of the content writer to make sure that the information presented is as accurate as possible. If the content turns out to be inaccurate, it becomes the equivalent of 'fake news' for the iGaming industry, and it is the reputation of your employer that is at stake.
Keep an excellent level of grammar: This is also a very basic requirement for content writer jobs, and one of the reasons why a native level of the language is often required.
Have an awareness of what competitors are offering: Keep in mind that as a content writer for iGaming, you are part of a bigger community, and you need to keep yourself informed about what the rest of the community is doing. Ultimately content writer jobs in Malta have one core priority: to offer information that is better, and more detailed than what the competitors are offering.
Cultivate a basic understanding of SEO or a willingness to learn it: A writer's job nowadays goes beyond the actual content. It is useless writing the most amazing casino review, if no-one reads it. Having a content writer job is as much about making sure that your writing is optimised for search engines like Google to pick it up among all the other writings about the same topic.
What Content Writer Jobs can you expect to find in Malta?
Typically, unless you have prior experience of content writer jobs in Malta, it is advisable to start out with an entry-level position. However, the possibilities for growth within this industry are strong and you will find different content-related jobs at different levels.
Content Co-Ordinator: This is considered to be more of an administrative role than a writing one, and usually involves making sure that existing content is accurate, on-brand and up-to-date. You would typically be working closely with the marketing department and the content manager to identify any needed content and to input the text and images into the relevant systems. A minimal amount of re-writing may sometimes be needed. Expect to earn an average salary of €28,000 that can increase up to €30,000.
Entry-level Content Writer: This role is exactly what it says. You will be responsible for the writing of content, with specific topics assigned to you by a manager. You will be working to preset goals and deadlines, and you can expect to be asked to write anything from casino and game reviews to promotional material such as advertising copy, emails, PRs, branded Facebook posts, mailers, web copy and so forth. Expect to earn an average salary of €30,000 that can increase up to €35,000.
Senior Content Writer: This is the next step on the ladder and, while you will spend the majority of your working hours writing as above, you will also have an amount of managerial duties to fulfill. These can be anything from quality control and reviewing of other people's content to the execution of strategy. Expect to earn an average salary of €32,000 that can increase up to €36,000.
Content Editor: In this role, you would normally be uploading and publishing content according to a set schedule, besides ensuring the regular updating of this same content and the creation of new ideas in order to improve content. Expect to earn an average salary of €35,000 that can increase up to €38,000.
Content Manager: This position involves managing a team of content writers that typically would include both in-house full-timers and freelancers. The role also entails liaising with other departments from within the companies, such as CRM and Product Managers, in order to identify what content is needed, assign it and ensure its timely delivery. Expect to earn an average salary of €38,000 that can increase up to €41,000.
Internal Communications Officer: In this role, your duties would be more focused towards internal communications. You would be expected to produce content for blogposts, videos, social media posts, event presentations and so forth, as well as delivering internal articles, campaigns and content. Expect to earn an average salary of €26,000 that can increase up to €28,000.
Check out our Content Writer Jobs!
Tools for content writer jobs
For the reasons mentioned above, if you're looking for content writer jobs in Malta you need to be willing to evolve your skills beyond the actual writing part. Below are some of the tools related to the profession that will help both if you are doing a test for an iGaming company and if you have already started a new job and are looking to improve your abilities.
Keyword Research tools: When creating content that needs to rank on search engines, a good keyword research tool will give you an edge. What are people looking for on Google? And how can you use this information to your advantage? There are several free online tools that will collate the information for you. Answer the Public will allow you to type in your chosen keywords and give you endless suggestions for reformulating, using different formats. Keyword Surfer is a free Chrome extension that gives you all related search data for free. Just type in your keyword and it gives you search volumes and keywords suggestions.
Mobile optimisation tools: If you're uploading your content onto a CMS like WordPress, you will need to check how it looks on a mobile phone before finalising. Nowadays, most people will use their mobile devices in order to visit their favourite websites, so anything less than perfect optimisation is unacceptable. Apps like Blisk will help you check that your content looks as good on the go as it does from a desktop machine.
Headline generator: Creating a catchy headline for a normal audience is no great shakes. Optimising it for an online audience is a different kettle of fish. There are many algorithms regarding length and capitalisation in order to favour Google ranking and clickability. Websites like Kickass Headline Generator will do it all automatically for you.
SEO tools:  Knowing how your content fares, when compared to other similar content that is already online, is essential. Are you offering any new information for search engines to take notice of your write-up? Do you have the right content that readers are searching for? There are various SEO tools available online, some of which - such as SEMRush, Ahrefs and MozSEO - come at a charge. These award-winning tools tend to be worth every penny spent on them. If you're looking for a free tool, SEOBook is a very comprehensive website about everything related to SEO that also offers a number of free tools, such as rank checking and keywords analysis, to help you better shape your content to ensure good ranking.
Grammar checker: No matter how excellent your grammar is, it is always a good idea to have someone double-check you. Or, if not someone, an App like Grammarly will work just as fine. This automatic grammar checker will literally correct your writing as you go along, picking up the smallest errors such as badly-placed commas, clumsy sentence structure and typos.
Hemingway Editor: Not sure if your sentences are too long? Or whether your structure is too complicated? This app highlights all those parts in your text that can be improved. thus, passive voice is highlighted in green; weak phrases in blue; dense sentences in red; and mistakes in yellow. Simply paste your text and start editing directly.
Check out our Content Jobs on Malta!
15 Tips on How to Become a Better Content Writer
The iGaming industry is a fast-changing world and you need to make sure that your skills as a content writer continue improving, if you want to stay relevant and to increase your chances of climbing up the ladder. Here are five tips to help you bring your A-game to the world of content writer jobs in Malta.
Know your subject as well as you can: The rule for good writing is that you write best about that which you know best. Of course, you are not expected to have expert knowledge about all aspect of iGaming. Pick some topics that are relevant to your job and make sure you know as much as you can about them. Nowadays, finding good information online is easy - there are a lot of tools and resources and, you should also keep an eye on what your competitors are writing about. Your knowledge needs to be as fresh and up-to-date as possible - and never forget that you're working in an industry where things can change overnight!
Always keep your audience in mind: Give the readers what they want is a good principle to work with, and this is where Keyword Research can really help. What is your audience interested in? What are they looking for? And can you make deliver that while exceeding their expectations?
Don't try to be someone you're not: Good writers in whichever industry have one thing in common - they write honestly. This means that you need to develop your own style - or, your voice, as it is referred to in the industry. Of course, your voice needs to be consistent with the voice of the brand or product that you are writing for. But, apart from that, it is good to allow your own personal identity to shine through. This makes your writing more human and, in turn, more automatically trustworthy.
Talk about real things, as opposed to theoretical ideas: In other words, your writing needs to be relatable. To give one example - say you're writing about how the latest video slot game comes with a host of extra features that are unusual. Don't stop there - describe them, build a vivid picture to reel your readers in and make them feel that they just have to try it out for themselves to see what all the fuss is about.
Never miss a deadline: Should be obvious, but it is surprising how many writers do not give importance to this aspect of the job. Content writer jobs in Malta are not just about the writing - they are also about providing the writing according to deadline, in order to fit within a pre-planned schedule. And, if you realise that you have no choice but to miss a deadline, alert your manager immediately rather than hoping that no-one will notice. That way, your manager can make alternate arrangements and the missed deadline will not necessarily turn into an unprofessional disaster.
If you're unsure, ask for clarifications: There's nothing worse than spending an entire day writing the perfect piece of content only to discover after it is finished, that your manager had something very different in mind. This is how deadlines end up being missed. If you are unclear about any aspect of your brief or, if there is any kind of ambiguity whatsoever, double-check with your manager to make sure you are delivering what is expected of you.
Self-edit your own work: This applies even if there is a content editor who will be checking your work after you. The first draft is never perfect and, even if you kept a close eye on typos there will always be some things that need changing. Tighter writing; adding an amusing play on words; removing repetitions; better sentence structure... these are all elements to keep in mind when you're going over your work. Our natural instinct when we have completed a piece of writing, especially if a particularly tough one, is to wash our hands off it and pass it on to the next person in the chain. However, one of the things that will help you stand out in the realm of content writer jobs is delivering content that requires minimal editing. The less time wasted on corrections, the better the workflow. And that is something everyone can get behind.
Focus on your headline: This is the first thing that will attract a reader to your content, that will make them decide whether it is worth clicking on it or not. Make sure the topic is obvious and keep it brief! Be honest with what you promise, as using the clickbait technique will certainly backfire. Readers who click on your content expecting one thing, and then are faced with something completely different will leave your page pretty fast. This will lead to an increased bounce rate and, eventually, to a negative effect on your Google ranking.
Be as simple and consistent as you can: Nowadays, few people have the time or inclination to read long and complicated sentences. Be natural in your writing, and avoid the passive voice in order to keep engagement levels high. Be consistent in voice and tenses.
Remember that SEO is important: Take special care, particularly when crafting headers, titles, keywords and Meta descriptions. Follow the standard SEO best practices and, if using a platform like WordPress, use an SEO plugin like Yoast and follow the suggestions.
Help your content look as good as it sounds: Most people read off their mobile phones, so make it as comfortable as possible for them. Small fonts, crammed content and zero visuals make it very heavy-going if you're trying to digest content from a small screen. And don't forget to check that your content and/or website are optimised for mobile.
Make your content easy to share: Social media platforms like Facebook, Twitter and LinkedIn can help give your content a good push. Putting a 'like' or 'share' button clearly visible on your content will encourage your readers to share it, attracting more readers (and possible shares!) in turn. There are a number of free plugins to help you do this, so test a few and make sure they work well with your page.
Place yourself in your readers' shoes: If you were on the other side of the fence, what information would you expect to find? Are there any extras - such as charts and diagrams - that would make you prefer one type of content over another?
Double-check your links: When a reader clicks on a link that turns out to be broken, or even irrelevant or untrustworthy, chances are they won't bother to visit your page again. Link only to reputable websites and don't just pepper your content with links just for the sake of it. Each link needs to add new information that is valuable to the reader.
Keep up with the latest trends: iGaming is a very fast-changing industry, and what you know today will not necessarily be accurate tomorrow. Don't rely on what you think you know - subscribe to iGaming news portals and stay in touch with market trends and events. The only way to ensure the information you give is fresh and up-to-date is by constantly reading up on your topic.
Continued Learning for your Content Job
Just because we are good at doing something, it does not mean that we should not keep trying to improve ourselves. iGaming, in particular, is an industry where continued learning is very much encouraged, with many companies offering opportunities for education on the job.
Here at WIS, for example, we are very big believers in enabling our employees to continue improving their skills and we hold weekly education sessions, besides providing access to other forms of learning, such as free e-books.
Whether you have already started working at one of the content writer jobs in Malta, or you are still in the process of searching, staying in touch with industry updates and following new opportunities for education will undoubtedly get you kudos and improve your career prospects. The following are some options that are worth considering:
Online Courses: Don't have the time to attend actual workshops or conferences? Online learning platforms like Udemy can go a long way towards opening new learning opportunities for content writers, with a vast range of writing-related courses that you can follow at your own pace and on your time.
Topics include general writing, such as The Four Levels of Writing Mastery, Writing with Confidence, Writing Tools and Hacks, and more. If you're after more specialised support, courses like Better Business Writing, Blogging and Web Content Creation. iGaming being a digital industry, bear in mind that courses that are related to technical skills geared towards getting your content online are also part of parcel of improving your hireability for content writer jobs in Malta, so do look for those.
Look for courses that will help you increase your SEO skills, such as Complete SEO Training for Websites, SEO for WordPress and the like - courses like WordPress Masterclass and Complete WordPress Training also help, as most iGaming websites are built using a WordPress platform.
Specialised Workshops: Private companies like recruiting and consulting firm MISCO offer a number of courses, with different ones being offered every quarter. Check out their website for useful programmes like the Professional Business Writing Workshop. These courses are typically held after office working hours so that even if you have already started working you will find time to attend.
Another two companies that offer related education opportunities are ICON, offering courses like SEO Content Optimisation; and ICE Malta, which offers accredited courses related to 21st century digital needs.
Check out our Content Writer Jobs!
Where should you look for Content Writer Jobs in Malta?
By now you should have built a clear picture of the employment landscape, especially of the way the iGaming industry is structured and the qualities that employers usually look for when posting content writer jobs in Malta. As you can see, there are plenty of opportunities available - if you know where to look for them!
So, where do you start? Online, of course. Nowadays, we are lucky to have access to a large number of free platforms that offer really good job databases. Moreover, these are constantly being updated with new opportunities, and you can even subscribe to get alerts and notifications every time a new job within your defined parameters is added.
If you're the slightest bit tech-savvy, you can make sure that you are one of the first to know about fresh job postings, and you can be one of the very first to get your application in. Remember that, in a very fast-moving business environment, being one of the first does make a difference. Many iGaming companies look for people who are in a position to fill the vacancy without too much delay, and openings are often filled within a matter of days.
Check out our Content Writer Jobs!
The following are some of the most popular job boards that are used by the majority of iGaming companies, and you are sure to find several opportunities for content writer jobs in Malta at any given time:
Glassdoor: This is possibly the most revolutionary job board, allowing employees to post detailed reviews and offer scorings for current and past employers. It is all done anonymously, for obvious reasons. So, if you have your eye set on a job with a particular employer but find a bad review, do not simply assume that it is true and change your mind. Do some research about the company - always a good idea - and check out more reviews, so you can use your own judgement. The website also offers the option of uploading your CV to the site, applying for jobs easily, with one click, a salary calculator. There is also a setting to receive reminders to apply/follow up on those vacancies you already applied for. Find a list of content writer jobs in Malta here.
Career Jet: Unlike Glassdoor, Career Jet puts its focus on jobs on the island, so you know that you are searching a database where content jobs in Malta are an area of specialisation. At the time of writing, the portal has well over 4,000 job listings registered, and one of them might just be the new opportunity you have been waiting for. Find a list of content writer jobs in Malta here.
LinkedIn: Originally, the website started out as a social media platform for professionals, a way to connect career people together. It was the more mature version of Facebook, if you will.  Through the years, it has grown into a giant, offering myriad services that include job postings, the possibility of following the pages of companies you are interested in, a skill-matching service and the facility to apply for jobs via the site itself. You can also follow specific hashtags and groups in order to keep updated with the topics of your choosing - checking what's trending within the sector of content writer jobs in Malta for iGaming is always a good idea. Find a list of content writer jobs in Malta here.
Facebook: LinkedIn's poorer cousin, Facebook has upped the jobs game considerably these past few years. The biggest social media website comes with its own job portal, but not only that - you will also find a number of specialised iGaming groups that regularly post about content writer jobs in Malta. One such example is iGaming Jobs in Malta, with about 18,000 members and counting;  Malta iGaming Jobs with over 9,000 members; and iGaming Jobs and Careers, with almost 7,000 members. Not specialised in iGaming, but still useful, is the group Jobs in Malta, with some 22,000 members. Facebook's actual job portal, which you will find here, offers a more structured approach with filters such as type of contract, salary, location and rank.
Others: While not as popular as the above portals, there are some other job boards worth keeping an eye on. These include JobsInMalta, JobFinder and MaltaJobPort. Moreover, portals such as Castille Resources, Konnekt, Broadwing Jobs, and MRecruitment offer a free subscription service and will send out regular newsletters with new job postings. Although the above job boards should keep you covered, it never hurts to go that extra mile in case something might have slipped your radar.
My Experience at one of the Content Writer Jobs in Malta
Writing for the iGaming industry is a completely different experience to any other type of commercial writing, as I have discovered during the past months that I have been working here at WIS. I had been employed as a professional writer within the media and the corporate sector for many years, but during the past year I found myself more and more attracted to the iGaming industry. This was for a variety of reasons, but mostly the fact that I wanted to be part of a modern, multi-cultural environment.
With many friends who already worked within iGaming, I knew that companies within this sector have a very well-deserved reputation for being excellent employers. We've all heard the stories about snazzy offices, free snacks and food, company events and a relaxed working environment, so I wanted to find out just how accurate this image is. As it turned out, it was not too far off from the truth, with some companies offering better deals than others. After doing some interviews, I realised that the biggest names had become more corporate through the years and that, while still being better employers than most other traditional sectors, their office culture had become somewhat more rigid.
However, I was lucky enough that WIS was one of the first few companies that I interviewed at. The company is medium-sized - although it has already grown considerably even in the few months I have been here - and the company culture is still very true to the origins of iGaming. From the first interview, I immediately had a good feeling about it. Undoubtedly the fact that WIS offers employees some really great perks like free food and snacks, education and training opportunities and the best coffee in Sliema, did help make my decision easier. Hey, I like people who like good coffee!
However, there were other important things that made my decision easy: salaries are competitive, the vibe is informal and I particularly liked the idea of a flat hierarchy with a great management strategy. The latter is one aspect that employees at bigger companies tend to miss out on. Working hours are flexible and are based on trust - having come from a very rigid office environment, I particularly appreciated being given this trust and independence. All employees are also offered the option to work from home for a certain number of days a year, which is very useful when you just want some peace and quiet for yourself. Moreoever, parents are offered great flexibility to cope with the needs of the little ones and those of the job.
Mind you, I also love being part of the WIS office - we are based in the heart of Sliema, with shops, beaches and bars only a stroll away. Employees are offered every comfort and motivation possible - I love the customised work stations (the neck massager is a definite winner, but I find so many other things useful, from the posture trainer to the standing desks). When you are located in a tourist-friendly zone, there is the feeling of being perpetually on holiday, something that I am making the most of. Evening strolls are after-office drinks have suddenly become a real possibility. The cherry on the cake is the fact that WIS provides a number of e-scooters for free to employees. Goodbye traffic problems! And hello, environmentally-friendly transport.
 In fact, one thing I have noticed since joining this industry is just how environmentally conscious iGaming companies are. And, at WIS, this is even truer than at other companies, as director Paul Scheuschner and the entire team take the whole concept of corporate social responsibility very seriously. Employees are always encouraged to follow 'best practice' with respect to working towards a greener planet!
There are just so many new and exciting things to appreciate when you're part of a company like WIS - the efforts of employees are appreciated in tangible ways, with hard work being rewarded by means of recognition programmes. Career development is also taken very seriously, with many employees who reach an excellent level in their performance being promoted not too long after they join and rising through the ranks fast.
What about the job itself, I hear you ask? Well, what I can say is that after a few months here I have already learnt so many new things - more than I have learned in many years being part of a more traditional company. My job consists of writing casino-related topics, keeping our customers informed about the latest news and trends on the casino front via one of the websites that are part of the WIS portfolio. Never having written about this topic before, and not being familiar with customers' preferences and so forth, it was a steep learning curve!
However, the environment at WIS is very conducive to learning, and people are always ready to help and to offer good advice, so the process was much less stressful than I would have expected! Besides learning a lot of new and fascinating stuff about iGaming, I am also constantly learning about being a content writer in a digital world, using best SEO and becoming very familiar with WordPress. Being part of such a dynamic industry is very refreshing and I have discovered that I really like the modern feel of everything!
Another part of my job involves writing content for the WIS corporate blog, such as this article, so there is always something fun to do and boredom is certainly not likely. Whether I'm interviewing my colleagues for their perspective about their experience working at WIS, or writing about unusual and useful things at our office, I am lucky enough to always enjoy my work!
And, although one of my biggest worries was the fact that I had no previous working experience in iGaming, I am very relieved that I have been given all the facilities to learn. At WIS, in fact, iGaming experience is not always a huge hiring criterion, and management prizes a lot of other good qualities such as determination and technical knowledge.
Our hiring process is a very straightforward one and designed to make the process as efficient and stress-free as possible. This is something to which I can attest and that my colleagues in the content department also agree on - such as Tim, our sports content writer who shares his experience and a typical day in his life at WIS here.
The Content team at WIS - maybe some of your new colleagues?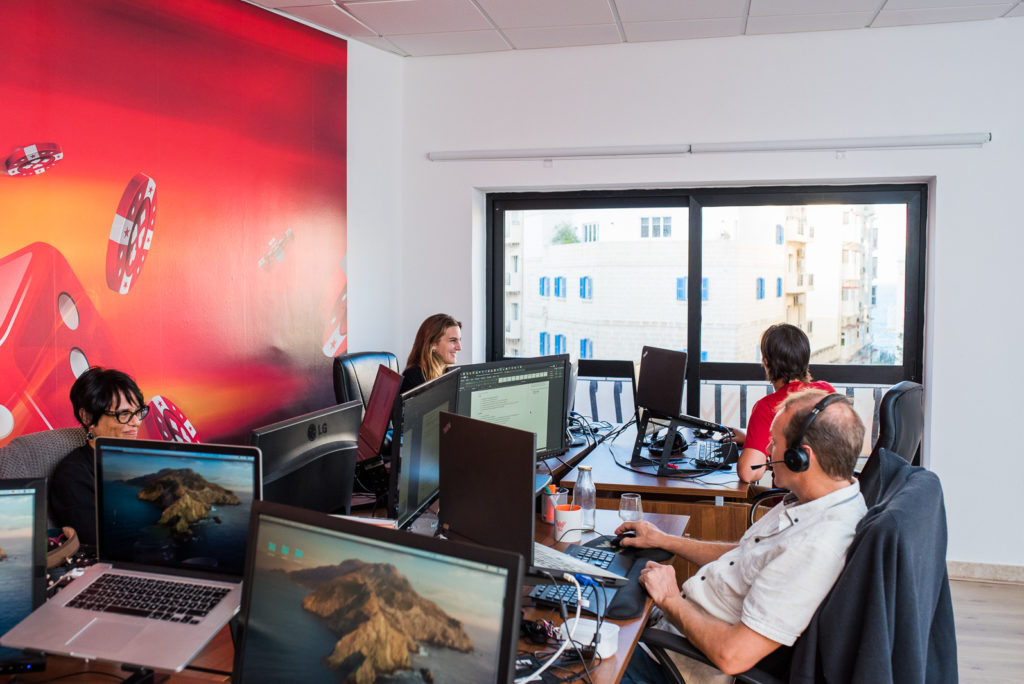 Conclusion
Intrigued? Our guide should help you identify the right content writer jobs in Malta while offering practical advice about the best way to set about your search. Even if you have no iGaming or betting experience, you should not be discouraged. Remember that you would be joining an industry that is welcoming and very much focused around job satisfaction and work-life balance. And if you're wondering what it would be like to join us at WIS, stop wondering, take a look at our content writer jobs here and send in your application!
Check out our Content Jobs on Malta!
Employer reviews for WIS