---
WIS is taking on the greener challenge. In a highly competitive industry, companies do not just need to be awesome places to work for, they also need to have a certain awareness about what's going on around them. Or in other words, increase their corporate social responsibility. (Encouraging an environmentally-cautious workplace, as a company, WIS is giving an example of how to become more selective and self-aware, in everyday life.) In the end, it is customers that have the real power to make a change as a collective. WIS, being a customer itself to numerous suppliers is getting more and more selective about what, and what not to order.
Little things can go a long way
An example of a little thing having a huge impact is that of the "No straw" movement. The "No straw" movement was initiated by a 9-year-old boy named Milo Cress in 2011, this is a perfect example. If you've ever seen the devastating look of a sea turtle with its nostril blocked by a plastic straw, you'll never want your mojito to be served with a plastic straw again.
We're going deep, yet trying not to compromise the gusto of our employees
When it comes to looking at, to reduce environmental impacts and once you start and ponder about the simple things you normally do not think about much, you'll be surprised by how much perfect sense they make. It's not only about being a Scrooge Mc Duck here and saving those pennies. Initially, it can take some small investments such as the Escooters WIS recently purchased. Everything adds up. Working in a healthy and sensible environment pays back its rewards in the long run. What we're looking for is sustainability in all aspects. Most of the actions are just common sense, or they will make more sense once you have a go at them.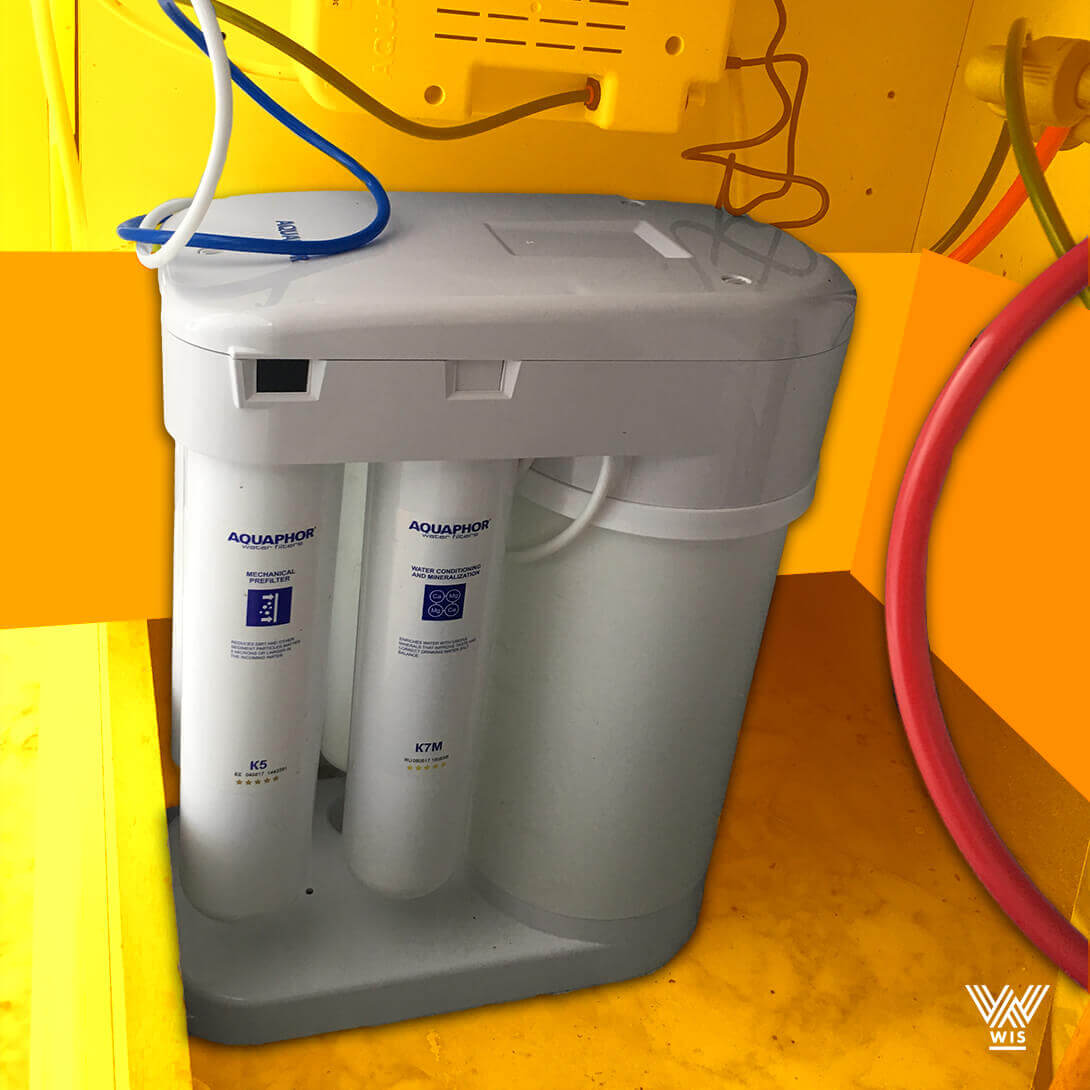 15 environment-friendly improvements we have done by now (to save energy and resources)
Glass straws instead of the plastic ones. The glass feels neutral in the mouth and is very easy to wash in the dishwasher. It's a no brainer!
Saving energy on electric appliances: We have LED lamps

almost everywhere, which save a lot of energy. 

Time clocks

for electricity, they do not bother anyone, but we do save energy and in case you forget to switch off your monitor, for example, the time clock will do the job.

Motion sensors

so lights will be there only when needed. 

We use monitors which consume less energy

. We also encourage people to do use the energy saving mode.

We save on water: using a water osmosis system in the kitchen for our water supply (picture above). That saves us from ordering and carrying plastic bottles. It also produces much less waste and saves on buying plastic. Also, plastic bottles can contain Bisphenol A. We also use this water to fill our coffee machines, so we don`t need to fill them up with water out of plastic bottles. We use only the shortest program for the dishwasher necessary. If you fill it only with dirty mugs and glasses, you don`t need a 2-hour program on high temperature. That saves both water and energy.
Shop local: we try to order as many local products as possible such as fruit and vegetables.
We`re separating our daily waste (plastic, organic, and waste) We also use organic bags (which are recyclable) for organic waste, until the waste will land eventually in the composter.
Composting: we compost all organic waste (this produces fertile soil and saves work to carry garbage down and reduces our waste in general).
We only use recycled paper for use in our printers. The paper is a bit thinner than normal paper but doesn`t harm us. Some people also set up their printings to print on both sides, which saves 50% paper.
Refilling of toners we don`t need to buy new toner cartridges or throw away the empty ones.
We try to print less; we have this message at the bottom of all our company emails – "Please consider the environment before printing this email"
We provide a box in the office for old batteries, so that they won`t be disposed of in the general waste.
Electric scooters instead of cars, buses or taxis, our Escooters are shared amongst staff and anyone can take them at any time for meetings during the day, or commuting home.
19% of staff are vegetarians in our offices (that saves resources and eventually the planet).
Real coffee: We don`t have, or offer a capsule machine. As they create a lot of unnecessary waste. The capsules even contain metal inside! Instead, we have a beautiful machine: Not only giving us the best coffee possible (any barista would be proud of), the coffee-grounds give our compost a nice boost as well.
We use our cups multiple times to save effort for the cleaners and space in the dishwasher. Therefore, saving water and energy again.
For interviews, we´re usually doing the first job interview on the phone. The applicant doesn`t need to come and here and will not create any traffic in the area either.
The measures mentioned above are easy to implement, most of them are relatively inexpensive and have an almost immediate return in savings economically and environmentally. Besides saving on resources they also contribute to the health of our employees. Another measurement we have taken in this line is installing dehumidifiers everywhere in our offices. This to prevent mold and having less humid rooms. Improving the air quality overall of the air we are breathing.
#Awareness #Sustainability #Savethatmoney