---
If you consider that we sit down every day for many hours at our desks in the office while going about our daily work duties. It is nice to know that there are plenty of customizations available to implement with your workplace, making it as optimal as possible.
Besides offering awesome content for its customers. WIS likes to offer a variety of options to make employees feel as comfortable as can be while at their workspaces. We go to great lengths creating the best workspace possible. If you're a new starter at WIS, there is a couple of questions you would have to ask yourself.

Do you prefer windows or mac?

Do you prefer sitting down or do you also like to work upright?

Would you like 1 monitor, or would you work better with 2 monitors?
Other than that, there are a whole plethora of possible wishes that can be catered for. Maybe its noise-canceling headphones you're after, or a neck massage device? Or something as simple as slippers just to feel more comfortable at work.
A couple of examples are:

Ergonomic Wrist Rests and Mousepads

Ergonomic Keyboard Wrist Support Sets.

Orthopedic back cushions

Orthopedic seat cushion for relief of the coccyx and back pain Ergonomic

Adjustable laptop and monitor stands

At the time of writing this article, 25% of our staff uses a -standing desk.

Different mouses such as a vertical ergonomic wireless mouse or one with an orbit trackball

Special monitors reducing glare reducing and eye strain
---
Kevin's (our content manager`s) ergonomic mouse: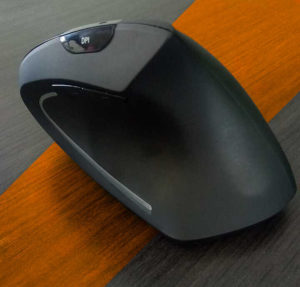 *In the picture on top of this page, you can see our lead designer rocking it at his standing desk wearing his new headphones.