---
Magic needs to be nourished. As we spend a good chunk of our time at the office, it is important to feel comfortable. Feeling comfortable translates almost immediately into food, especially here in the Mediterranean. From personal experience working in online gaming companies over the years, most companies have the best intentions and like to treat their staff. Particularly the ones with Swedish roots, naturally have a high standard regarding fostering employee satisfaction. A likely "reward" delivering an almost instant feeling of satisfaction, would be one of the many options containing sugar.

When I worked at my first online gaming company, we used to order a cake every time there was a birthday. When I started, we had around 20 of staff. About 2 years later this number increased to 200. The amount of cake a week was becoming ridiculous. Luckily more and more companies seem to acknowledge that the effects of sugar pushing are only short-lived and not contributing anything in the long run.

Happy employee = higher productivity = better atmosphere
That's why the WIS kitchen is fully equipped to meet everyone's wishes. Lunch orders are taken every week for the week to come. At our offices, we have vegetarians, gluten intolerants and anything under the sun when it comes to dietary requests. Besides tailor fit lunch orders, we have a shopping list for anything you might feel be missing. Okay, so if you feel like ice cream every day. Go for it. Sugar, however, is not pushed by management or HR.
The kitchen is equipment as a standard with, well too many to list here. A few things I can reveal: Dark Chocolate instead of normal Chocolate. Oat flakes instead of the sweet cornflakes, coconut oil instead of vegetable oil, nuts besides sweet, hemp protein instead of ordinary protein powder (which is from milk). Himalayan Salt instead of ordinary table salt (healthier than table salt). We also always have these items available: Erythritol as a sugar replacement. Powdered peanut butter as it's a much healthier option to peanut butter and any kind of alternative milk such as rice milk, oat milk, almond milk. Fresh fruits, besides sweets. (Pssst: We do stock sweets for let's say, it's your cheat day). Oh yeah, we also offer fresh orange juice, every day!
---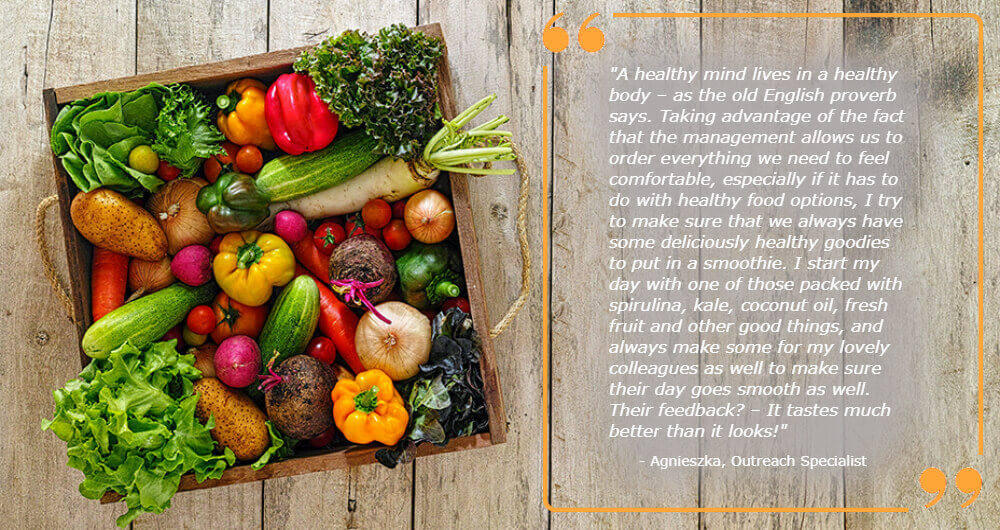 ---
Did we mention we make fresh smoothies every day?
In case we forgot to mention, fresh smoothies are made daily. No one is forced into this role, so it's all coming in naturally. Yet our true queen of smoothies is Agnieszka. It wouldn't be fair to leave her out of this article.
If you feel like you could blend in with our smoothie-making WISinators. To, come as you as you are, to be as you are, and stay healthy at the same time. If you like to further develop your magic skills. It might be your lucky day, finding your dream job here at WIS. You can check our open positions here. See you later WISinator!