If you're an iGaming professional, there is a good chance that you are eyeing product manager jobs in Malta. With the Mediterranean island maintaining its prime position as the number one iGaming hub on a global level, it is no surprise that industry professionals are so attracted to working here.  Product manager jobs in Malta are very highly sought after for various reasons, starting with the fact that they tend to fall on the upper side of the salary scale. If you have iGaming expertise and love a fast-paced job, this role might just be perfect for you.
But there's more. Working as Product Manager throws you right in the middle of all the action. It's exciting, fast-paced and leaves no room for boredom, so if you have a dynamic personality and iGaming expertise, then this role might just be the perfect one for you.

Working as Product Manager at WIS 
You may be wondering what it's really like to succeed in getting a Product Manager job in Malta. Is the experience everything that it is described to be? Looking at my experience working as product manager at WIS so far, I can very happily say that this job offers me all the challenges and satisfaction that I hoped for.
Let's start with the honest truth – my role as Product Manager is challenging! This is no job for those who are after a quick and easy ride on the iGaming gravy train. As Product Manager, I am responsible for the performance of my product, a website, and for creating ways and means to improve it. It's certainly not an easy task, but it can also be extremely rewarding and also often fun! If you're curious about learning more, this is what jobs in Malta are all about.
Working at an organisation like WIS, where the company culture is so close to everything that made me join iGaming in the first place, is also part of the fun. WIS offers product managers a fantastic number of perks that range from education benefits and opportunities for personal growth to other extras such as complimentary e-scooters (no traffic or public transport problems for me!), a modern and informal office environment near the gorgeous Sliema promenade, healthy food options, great coffee and more.
Check out our Product Manager job openings at WIS Ltd
(if there are currently no listings, see the "Content Strategist" roles, which are very similar)

Check out Product Manager jobs at WIS
We keep our WIS Jobs Page constantly updated, so do drop in to see what we offer. WIS is experiencing a big surge of growth, and we also regularly post openings within other departments, such as content writing. And, if you're looking for a product manager job in Malta because you heard that the best employers within the iGaming sector are here… well, you're not wrong! Joining WIS means that you join a company culture that is modern and based on a great work-life balance. We are also big believers in corporate social responsibility and we are working towards becoming the greenest company in Malta. If you'd like to know more, check out our complete guide to iGaming jobs in Malta and learn about our hiring process here.
What about other Product Manager jobs in Malta? We have done all the research for you, and our guide will direct you to the best online portals with the latest vacancies. All you need to do is follow the links below and make sure that you stay updated. iGaming is a very fast-paced industry, and you will find that vacancies are snapped up very fast, with new ones being added constantly!
Where to find the best Product Manager jobs in Malta
The next question you're likely to be asking yourself is: "Where can I find the best Product Manager jobs in Malta?" Sourcing product manager jobs should not be too difficult, starting here at WIS. We are constantly looking to grow our team by hiring committed iGaming professionals.
Product Manager jobs in Malta on Careerjet
Careerjet is probably the first digital port of call when looking for a job. The website offers a very comprehensive database and search system that feeds from all other job portals so that when you search for Product Manager jobs in Malta the results will return all the openings that were posted online even through other search portals. In short, you won't miss a trick.
The portal is very user-friendly and by simply typing in your search term – in this case, 'product manager jobs Malta' – it will be enough to give you what you're looking for. Each vacancy is very well-explained, with responsibilities, benefits and perks clearly outlined. And if you like what you see, all you need to do is click on the 'Learn More / Apply' button, where you will find even more detail about the company and the job. There is also the option to save the job to your favourites so that you can easily return to view the job openings that you are interested in.
Product Manager jobs in Malta on LinkedIn
Linkedin has become so much more than a social media platform and is now a fully-fledged job posting board, with the facility to use the 'easy apply' option within the App itself, to ask connections for an introduction to the company and even to reach out in an informal manner to the person who posted the job.
All job listings come with detailed information about benefits and duties, seniority level and even how your skillset matches what the company is looking for. And it's very easy to find out more about your potential employer by following the link to their page. The amount of information Linkedin offers is amazing – you also get to know how many people have already applied before you, although do bear in mind that there may be others who applied using a different portal. One particularly useful feature is that you can set up notifications so that you're one of the first to know when a new product manager vacancy is posted.
Product Manager jobs in Malta on Glassdoor
Glassdoor is probably the revelation of the 21st century as it has revolutionised the job-hunting process. More than a job-posting portal, it is a social media community bringing together people who are looking for a job. Here, you will find reviews about specific companies and detailed information about their interviewing process. The latter can be particularly helpful, but do bear in mind that you need to exercise common sense and good judgement when trying to decide whether a review is genuine or not.
Much like the other two portals, Glassdoor offers the option of applying for the job within the App itself, of saving your favourite vacancies for product manager jobs in Malta, and of setting up notifications to alert you whenever a new job is posted. It should be noted that all these services are free, so it is always in your interest to subscribe.
Other ways of finding Product Manager jobs in Malta
While Careerjet, Glassdoor and LinkedIn are the top three portals to follow when looking for Product Manager jobs in Malta, as the saying goes: the more, the merrier. Other good websites to keep an eye on include MISCO, the Facebook group iGaming Jobs in Malta and the Sigma Facebook page and their official website.
Why you should attend iGaming conferences
If you're still new to the Maltese iGaming scene, then you need to know that networking is the name of the game. Stands to reason, even a basic knowledge of the industry and the main players on it will go a long way. Moreover, key people do tend to discuss new and upcoming job opportunities at these conferences, so that you can be a step ahead of the others in terms of the application process.
And, whether you're a local or you're willing to relocate for the right opening, if you're looking for iGaming jobs in Malta it's always a good idea to become familiar with SIGMA. For those not in the know, SIGMA is the guru for all things iGaming in Malta, and the name behind one of the biggest international conferences in the industry. Every year, the organisation holds a number of big events both in Malta and in other locations, including London, Manila and New Jersey among others.
These events tend to bring together the majority of companies and organisations that are somehow involved in the iGaming industry, with company stands, workshops, talks, drinks and plenty of networking opportunities. If you're serious about finding a Product Manager job in Malta, it will definitely be worth your while to keep an eye on which conference is taking place closest to you and seeing if you can swing a visit.
If attending a conference is not an option, do keep an eye on the SIGMA official site, as this is continuously updated with industry news and new vacancies.
Different Types of Product Manager Jobs
Not all Product Manager jobs are the same, of course. Your actual day-to-day responsibilities will differ according to your specific sector and organisation, and according to the nature of your product. Is your product a casino, a game or a website? Are you in SportsBetting or are you a casino specialist? The bigger companies will actually offer a variety of Product Manager jobs in Malta to fit their different products and departments.
Choose your vertical - do you prefer Sports or Casino?
The rule of thumb is that you can only manage efficiently that which you already know. So, before starting to apply for Product Manager jobs in Malta it's a good idea to focus your efforts on that one area you specialise in. Do you have in-depth expertise about Casino games and the industry in general? Then you should be looking specifically at openings within the Casino sector. On the other hand, if you have gained knowledge and insight into the realm of Sports Betting, your experience will certainly be put to good use within that sector, as a Sports Product Manager. Another vertical that often offers product manager job openings is the Finance sector – this is also a highly-specialised sector with very few people possessing the necessary knowledge, so if you're one of these people you're likely to be snapped up. At WIS, for example, we pride ourselves on hiring only the best people even for the finance industry, so keep an eye on our jobs page.
Operator or Affiliate side?
Someone who has little experience of the iGaming industry may not realise that there is a huge difference between whether you choose to look for Product Manager jobs in Malta on the Operator or the Affiliate side. Your choice will affect your day-to-day responsibilities and the area where you will be expected to focus your efforts.
Affiliate Product Manager jobs
In essence, if you are looking for Affiliate Product Manager jobs in Malta, your area of responsibility will be managing and optimising the website that is your product. Affiliate companies work on a lead generation basis, using a content-rich website to direct readers to specific affiliate partners. Thus, if you're a Casino Product Manager, your website will give readers all the latest information about anything related to casino games – slots, live tables, trends, bonuses, new features, casino reviews and so forth – and will direct users to affiliate sites that offer the services they are looking for. On the other hand, the Sports Product Manager will do the same for sports betting.
Day-to-day management for both would include the addition of new features for users, optimizing the UX, researching new content topics, above the fold optimization, reviewing content and reworking it and so forth. The Product Manager's job is to make sure that the website is working at its best efficiency and is giving the users exactly what they want.
Product Manager job in Malta with affiliate companies tend to be more sought than those with operators for a variety of reasons. For starters, an affiliate company offers more in-depth and comprehensive knowledge of the entire industry, with the Product Manager getting to experience a multi-faceted approach to their area of speciality, whether it's casino, sports or finance. Because of its very nature, managing a website means that you gain insight into the whole market, as opposed to – for example – into one game or one operator.
Job security also plays a huge role in determining Affiliate Product Manager jobs as more popular than Operator jobs. As an affiliate product manager, you will have several 'clients' (affiliate partnership deals) to help keep your website financially in the green. If one client is going through problems, the damage to your website is limited as there are always the others (and new ones!) to fall back on. To put it bluntly, if one casino folds, you still get to keep your job.
See our Product Manager jobs at WIS Ltd (we`re an affiliate company!)
(if there are currently no listings, see the "Content Strategist" roles, which are very similar)
Operator PM jobs
The job of a Product Manager on the Operator side is extremely different from what I just described above. Typically, you would be managing a casino, so you will need to take care of every aspect that makes players want to play there, creating a roadmap for the entire casino. An example of day-to-day tasks may include finalising deals with more game providers, brainstorming with the marketing team for ideas about promotions and making sure they're implemented, liaising with UX, integrating sportsbook and casino products and so forth. As the manager of the casino, you will have a finger in every pie, from CRM to KPI, front end, backend and all.
The different types of Product Manager jobs  
As explained above, not every Product Manager job is the same. Even within this role, there are different hierarchies and duties that depend on the level and sector you are working in.
Product Manager
A Product Manager's role involves tracking the overall market and competitive elements of the product, creating and managing a roadmap and implementing it. This is achieved via liaising with other teams like marketing, affiliates, sales, design, development and so forth.
Product Owner
Whereas a Product Manager literally represents the external voice of the user, creating goals to offer the users what they want, a Product Owner is a key person in terms of product development taking a high-level approach to defining goals.
Head of Product
As Head of Product, your focus will certainly be on the higher-level strategy, rather than the details of the day-to-day operation. Your job will consist purely of managing and delivering goals for the product, making sure that all departments are working to achieve these goals in an efficient and timely manner.
This is high-level management in its purest form, requiring organisational skills that are near perfect and an ability to think longterm and to juggle multiple goals in order to create one functioning vision.
What salary can a Product Manager in Malta expect to earn?
While Product Manager jobs in Malta are known for being on the higher end of the salary scale, the actual salaries can differ significantly between one company and another. They also depend on the industry or vertical you're working in and your own experience in the sector. You can roughly expect figures within the below scale:
Product Manager - €30,000 - €60,000 per annum
Head of Product - €50,000 - €80,000 per annum
However, the position also typically carries a number of perks and, in some cases depending on the company, performance bonuses.
Top 7 Required skills for Website Product Manager jobs
The best product managers are the ones who appreciate that the role requires multiple skills and a willingness to learn them. And it's not just about technical knowledge - management skills, empathy and a strong dose of common sense are just as important! Here are some qualities that will undoubtedly make you stand out.
 1. Communication & team spirit
The role of Product Manager involves a lot of liaising with other departments across all levels. Your job doesn't stop when you come up with the next brilliant idea – this idea needs to be communicated to the right department in order that it can be efficiently implemented. The success of your product will depend not only on your decisions, but also on how well you can communicate them to the team and whether the team then translates them into reality. It takes an entire team of professionals to create the perfect website for a user, so if you prefer to act as a lone wolf then this may not be the job for you.
2. Leadership & decision making
This is a pretty obvious requirement mostly because as Product Manager the buck stops with you. Any decisions taken – whether they succeed or fail – are placed at your door in terms of responsibility. A Product Manager needs to have excellent leadership skills and to be comfortable taking difficult or risky decisions on a regular basis.
3. Prioritization
The ability to multi-task is a given with this kind of job. Every day, you will face different things that require your urgent attention, all of which seemingly carry the same high level of priority. However, you also need to be able to create an objective priority list for all actionable items. The rule of thumb is that if you try to do everything at once, nothing gets done well. Identify top priorities, make a list and stick to it.
4. Trust
This is an essential aspect of all teamwork. You will be relying on your team and on many different departments to implement your ideas and reach your goals, and it is vital that you trust the people around you. An efficient leader knows how to give a good brief and to give their team enough independence and space to deliver it. The Product Manager's job is to define the goals and trust the team to achieve them without micro-managing the details.
5. Knowledge of your market
This one should not need to be said, but better safe than sorry. Applying for Product Manager jobs in Malta is only a good idea if you have a thorough knowledge of the iGaming sector in general. Once you accept a job offer, you will also need to make sure that you pick up in-depth knowledge and build expertise on the specific market that you are working on. Let's say that your product is a casino website targeting German players – your priority is to learn everything there is to learn about the German casino and gambling market.
6. Measure your success/failure
Setting goals without following up on them is useless. An effective Product Manager is capable of finding and using the right tools that will allow them to measure the success or failure of their initiatives. And, in case of the latter, to make adjustments and rethink strategy in order to set course for success.
7. Resource allocation
Resource allocation is an essential part of managing any project, including in iGaming. When managing an affiliate website, you are going to need a wide variety of resources to get it done. These range from human professionals such as writers, developers and designers, to tools such as software, hardware, meeting space and so forth. And, of course, time, possibly the most important resource of all. It is up to the Product Manager to identify the best ways to manage these resources and to use them in the most effective way possible.
Tips to become a better Website Product Manager
At WIS, we do believe in one thing that drives all our decisions - and this is that we always need to be willing to improve and to learn. No matter how much we think we already know, there's always something new that we can learn in order to make our product more successful and our working day better.
Show empathy
You may be a Product Manager, but first and foremost you're a human being. And so is the rest of the team. It is very easy to forget all about human nature when we are chasing the next goal, but that is not the stuff that great leaders are made of. Don't forget to put yourself in the shoes of the people you're working with!
Show curiosity
The Product Manager is towards the top of the hierarchy within the product chain, but this does not make them an island. There is always something new to learn, whether from your team, from competitors or even from other verticals and the industry on a general level. Do not be afraid of showing interest into what everyone else is doing, you (and your product!) can only stand to benefit.
Focus on solutions
We all have our bad days when things don't go as planned or unexpected problems crop up. It's human nature to fret about it, but as Product Manager you need to be able to pick up the pieces and move on, with the next goal in view. A problem is never just a problem; there's always a solution hidden somewhere, and it's up to you as Product Manager to find it.
Improve internal processes
Sometimes, it is only too easy to accept a system as the status quo and to work with the flow. But the most efficient Product Manager will be quick to realise when the internal processes are not working as effectively as they could and to create ways and means to improve them. If an internal process is wasting time without producing results, then maybe it's time to come up with something better!
Website Product Management tools and software
An essential part of a Product Manager's job includes the effective use of tools that help you manage your tasks and to track your results. Most iGaming companies use similar task management tools that are based on the JIRA system, or a visual variation like Miro, or both. And, of course, the 'bible' of all online results tracking – Google Analytics – also plays a massive role in your day-to-day operations, together with some other software.
Task managers
When taking up a product manager job in Malta you are likely to find out that the Jira App will play a very important part in your working life. Considered by many as the ultimate project management software, helping simplify every execution step of a project by breaking it down into smaller phases, called 'sprints'.
A different aspect of team-collaboration is Trello, which allows you to create boards, lists and cards that you can organise and prioritise in a simple manner and then share with other team members, so that everyone has access to the latest, updated information at a glance. Miro takes this collaborative facility a step further by empowering different teams to work on a visual platform in real-time via video, chat, presentation and sharing.
Because the role of Product Manager depends on close and efficient collaboration with a lot of different teams, you will be expected to be (or to become) familiar with such task managers. This, in turn, will make your daily workflow much easier to control efficiently.
Results tracking
A Product Manager is only as successful as the results that are tracked. And, for this, you will need to use a whole army of tools and software. Starting with Google Analytics and the Google Search Console, both essential in determining the performance of your website. The first measures the traffic on your site, while the second measuring your site's organic search traffic, together both giving a comprehensive overview of your audience.
But it's not just about the amount of traffic – it's also about what gets you there. To measure these elements you will use software tools like ahrefs, the biggest online index of live backlinks, as well as tools like Semrush, Ubersuggest and Google trends, all of which provide great suggestions for keywords, while Hotjar & Co offers a clear picture of user behaviour and UX analysis.
The digital landscape is ever-changing, so as Product Manager be ready to embrace the new tools that are continuously popping up on the market. At the end of the day, they can only make your job easier and your product more successful!
Conclusion
Intrigued by everything that you just read? Then maybe you really should be checking out Product Manager jobs in Malta. Malta has a very vibrant social life and it is very easy to get to know people from the industry over coffee or a beer and a relaxed chat. Most of the expats hang out in the Sliema/Ta' Xbiex area, which is where the bulk of the iGaming industry is concentrated and also where everyone's favourite bars and cafes happen to be. All you need is a passion for iGaming and some good, solid knowledge of the market forces. And a determination to succeed, of course.
If all this sounds right up your street, then this could be your turn to say hello to a brand new life as part of the beautiful iGaming community in Malta. If you'd like to know more, do take a good look at the WIS blog to get an idea of how fun and rewarding employees who join the company find it. And, of course, check out our Product Manager jobs to see if there is anything that suits you. Let's talk!
The Product Manager team at WIS - maybe some of your new colleagues? 
Daily plan of a Product Manager at WIS - From Denis (first on the left)
From Product Manager to Head of Product - From Glenn (second from left)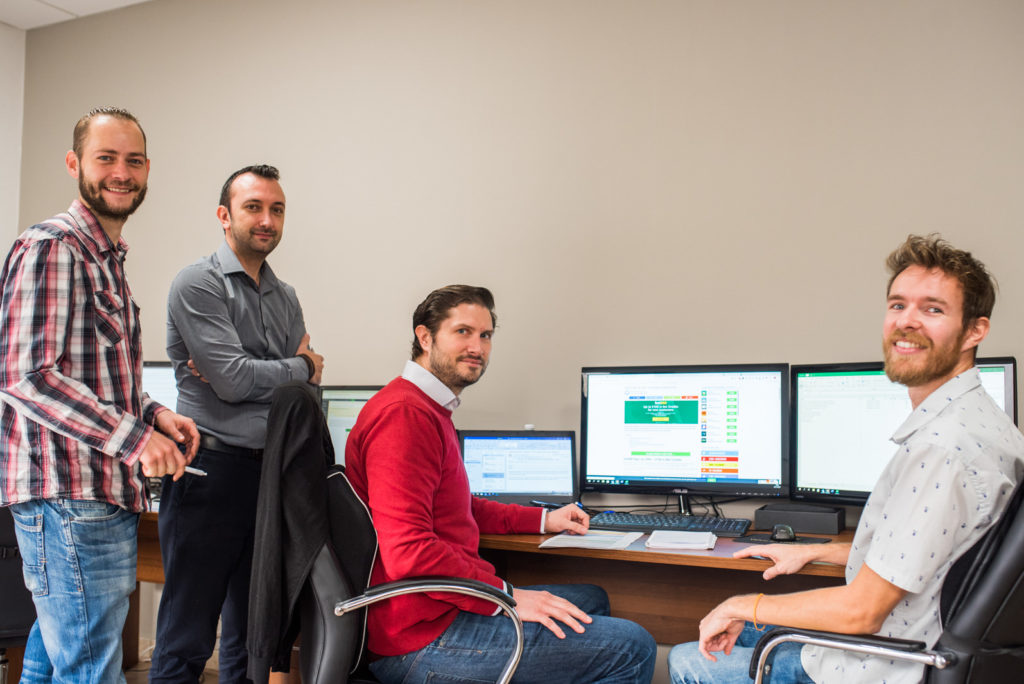 Check out Product Manager jobs at WIS Ltd!
(if there are currently no listings, see the "Content Strategist" roles, which are very similar)