As a growing company, we are pleased to be able to offer our team members the opportunity to pursue career growth working at WIS. Not long ago, in 2015, WIS was just a small team of six full-time employees. Today, at WIS, we already count more than 20 people working here. The truth is that our talents thrive at WIS! We decided to ask our team members how their career at WIS has accelerated since they joined our team. You can read all about our employees' inspiring career growth stories below.
The Sky is the Limit - From Intern to COO, Tarik Ballouz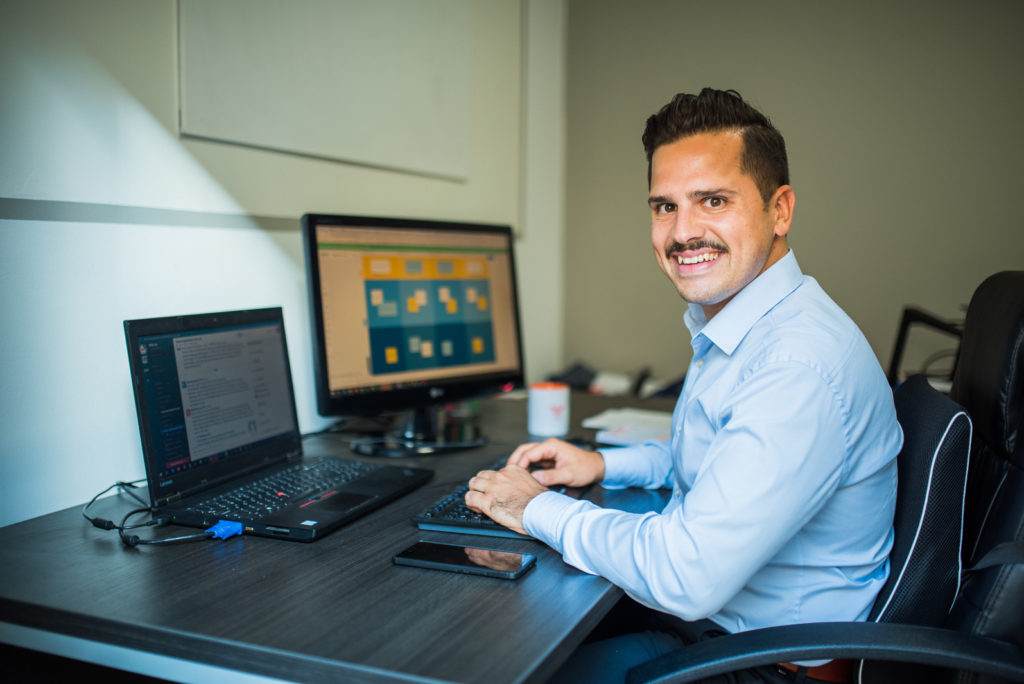 How long have you been working at WIS?
I joined the WIS team on October 1, 2015. We have recently celebrated my fourth  'workaversary'!
What was your position when you started, and which position do you hold now?
I started out as an Intern for the Finance market, and since then I have come a long way to become the Chief Operating Officer (COO) of WIS. In the past 14 months, my career at WIS has gone up to a whole new level.
What helped/motivated you to make that progress?
The nature of the online businesses, combined with my pursuit for personal growth and user satisfaction, have turned me into a success addict 🙂 I possess a genuine flair for digital marketing and affiliation. The fact that the online world is alive 24/7 – globally  – is fascinating to me. Also, everything that you do online is trackable, and you can analyse how the audience reacts to your work. You get rewarded for taking the right decisions, and you also get to see the negative consequences of taking the wrong ones.
What does it take to take a step forward and pursue career growth?
Continuously learning and understanding that nothing is more important than having a great team. Driving results is always a team effort! Focusing on creating an environment that is rewarding and allows you to be the best version of yourself.
What are your goals for the future?
First and foremost, actively working hand in hand with the entire team, to ensure that WIS is going in the right direction, while conquering new markets to expand the company's activity. The natural results of those objectives: reaching long-lasting new business heights.
From Developer to Development Manager, Thies Petersen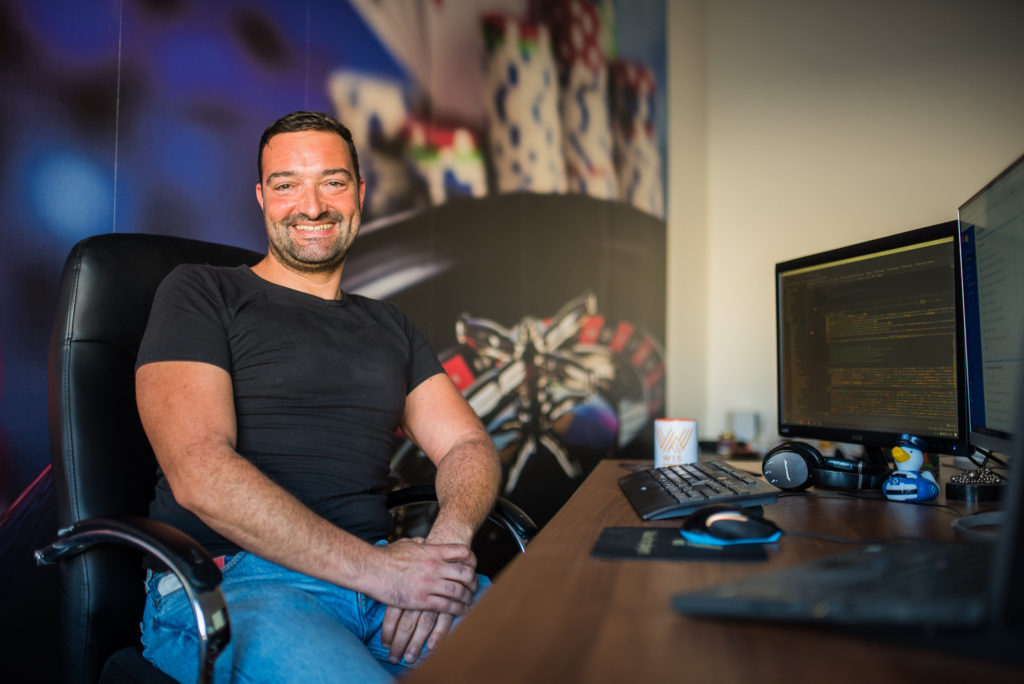 How long have you been working at WIS?
I started working at Web International Services when the office was still located in St. Julian's, back in July 2017.
What was your position when you started and which position you hold now?
My first position was as Senior Frontend Developer. At that time, I was the only in-house Developer on Malta in the company. WIS was already well-established, but still having a small workforce, less than ten employees. Every employee had the support of the others. In a way, everyone was also a bit of a Product Manager for our portals. This period increased a lot my knowledge about the business, the WIS portfolio, as well as my skills. It was a very motivating time, nearly like working at a Startup, where you can see the immediate effect of your efforts in the company results.
What helped/motivated you to make that progress?
It didn't take long before WIS started to grow. We've created a Department structure. Together with a growing number of Product Managers and Content Writers, we realized the need for more development power. To use this power efficiently we decided to hire a fulltime Designer also. During this process, my role had changed to a "Team Lead Development and Design". For the first time in my life, I was responsible for hiring a full team and changed sites at the interview table. Luckily our company is highly interested in educating the employees. Therefore, I was able to sign up for online courses and get the needed knowledge, meet people in similar roles at conferences and get the time to improve myself.
What does it take to make a step forward and pursue career growth?
After a lot of interviews and some test days, the Development Department, consisting of a Senior Frontend-Developer, a Frontend-Developer, an UI-Designer and a Team Lead was setup. Next step: Establish proper workflows as the way we worked previously was not fitting the company needs anymore. In previous companies, I've learned to work in agile environments using JIRA as a process management tool. Luckily the General Management at WIS is very open for improvement proposals, and soon I was an Administrator of JIRA again. Together with the other Departments we discussed and agreed on how we want to work together in future. The structure was finally setup.
WIS was continually growing, organically, at a moderate pace. Besides improvement, relaunch and launch of our portals, WIS had acquired new ones. I've improved my skills in time management and leading the DEV team. Also, I've learned how to give proper feedback and set goals for team members and make it possible for them to grow, just like I did. A Junior Frontend-Developer extended my team, and within a year of his employment, Matthew grew into the Senior Developer role. The need for designs increased accordingly, and at some point, it made sense, to build up a Design Department while it was possible for me to concentrate on the development process fulltime. In result, this led to my role changed again to my current one: Software Development Manager.
What are your goals for the future?
When I started at WIS two and a half year ago, I did not think how fast I would develop or grow into new roles. I'm still pleased that I did this step and joined the company. Since I started, I had not a single day off sick leave, maybe because I look forward to going to work every single day! I am curious about how the company is developing. There are still a lot of big things ahead. Personally, I would like to call myself Head of Development at some point in future.
From Junior Product Manager to Product Manager, knowing the products by heart, Denis Kulakov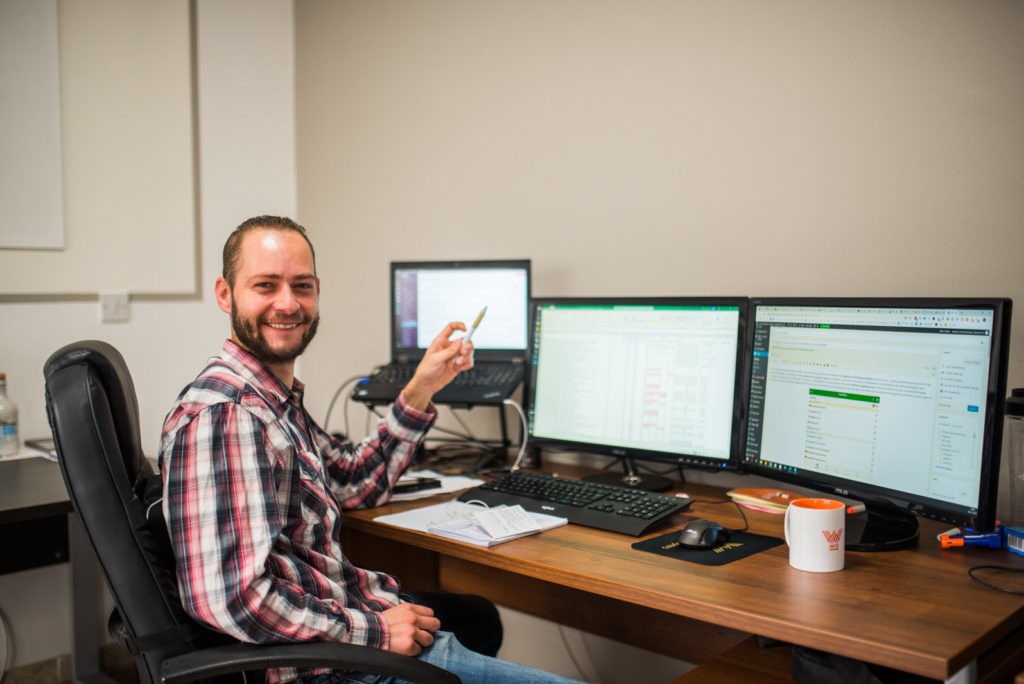 How long have you been working at WIS?
I started working at WIS on December 10, 2018.
What was your position when you started and which position do you hold now?
My first job title was Junior Product Manager, as I had some experience in this industry. After passing the probation period and showing a high learning curve, the 'Junior' part of my title has been removed. Currently, my official job title is Product Manager, and I'm entirely in charge of our German Sports website.
What helped/motivated you to make that progress?
From the beginning, I had very positive feelings about the company. WIS offers many growth opportunities, such as an annual training budget, weekly education lessons and also the option to have education sessions with colleagues on a regular basis. These various opportunities confirmed my initial impressions, that if you give 110% at work and improve your set of skills daily, the progress comes naturally. Additionally, the support offered to me by the whole team had a significant impact on my personal growth. All WIS employees are open-minded and willing to share their expertise with other members of the team! This keeps us motivated in the long run, and I'm delighted to be surrounded by such helpful colleagues.
What does it take to take a step forward and pursue career growth?
Personal growth is only possible when you challenge yourself daily. Despite the multiple options provided by the company, such improvements are highly-based on being proactive and self-responsible. Also, it's tricky to find the right balance between handling the workload and finding the time for education - not only during working hours but also in your spare time. Therefore, I've been reading popular Product Management newsletters, blogs, and studies in general. By doing so, I've managed to develop an 'out of the box' thinking approach, which I try to apply in my daily work. These actions helped me to further grow at WIS, and the success has been confirmed by the results achieved so far.
What are your goals for the future?
In the short-term, I'm very excited to share my knowledge with newly starting Product Managers since I'm the longest-serving Product Manager at WIS. All new employees have vast expertise in different areas,  but joining WIS means getting used to our culture and principles. We do have a different approach than most of our competitors, and new staff members will need to give priority to apply these principles when joining WIS.
In general, I'm excited about the plans for the company. The actions implemented so far by the general management are promising, and I can identify myself with them. I am especially excited by our goal to be the greenest company in Malta, which is admirable since most companies don't care about the environment. Therefore, I'm willing to continue contributing to the company's success and improving my skills, as well as my expertise in Digital/Affiliate Marketing.
Becoming a Senior Frontend Developer, Matthew Spiteri
How long have you been working at WIS?
My starting date was July 6, 2018. I have now been working at WIS for one year and two months.
What was your position when you started, and which position do you hold now?
I started out as Frontend Developer. Within one year working at WIS, I got promoted and now am a Senior Frontend Developer.
What helped/motivated you to make that progress?
The WIS team helped me make a significant difference in my work. I can say that the development team, especially my superior Thies, motivated me to achieve career growth.
What does it take to take a step forward and pursue career growth?
To take a step forward in your career you need to keep learning every day so that you can be up to date with the fast-evolving digital world. You need to be eager for knowledge. You need to give your input to the team, and to be creative. It is also important to take the initiative and to make a difference by contributing to the growth of the company grow, too.
What are your goals for the future?
My long-term career goals are to continue expanding my knowledge and professional expertise in order to be eligible for future promotion and to experience further career growth. I am motivated to become a development project leader.
At WIS, we certainly appreciate the many talents that are part of the team. And, as these stories show, hard work is usually acknowledged with a promotion not too long after joining the company! We believe in empowering our young team, and we look forward to seeing more and more talent being added to our family.