Unless you've been living under a rock these past few months (if so, you have missed both nothing and everything all at once), you'll know that the world has been forced to change its ways drastically, meaning that all of us have had to think outside the box in order to adapt to the situation as smoothly as possible. It's safe to say that COVID-19 was a challenge that many of us in iGaming, as well as most other industries, were not prepared for.
However, as the founder of Intel, Andrew Grove, once said,
"Bad companies are destroyed by crises; good companies survive them; great companies are improved by them."
Here's how we at WIS have met the challenges presented by the pandemic head on, and how we are constantly looking ahead and re-framing our efforts to tackle the future.
1. We Put Our People First
WIS would be nothing without the people who show up every day and make the place what it is. There's no role that we consider unimportant or trivial, no matter the department or responsibilities assigned. That's why, when an employee offered to reduce their hours the moment the pandemic began making its presence felt, we immediately decided that such measures would be the last resort, and ruled out the following while we dealt with COVID:
No termination cuts
No salary cuts
No reduced hours
2. We Kept Things Flexible
Instead, we shifted our focus from sectors most affected by the virus (namely our sports portals) and put our product managers in charge of markets such as esports, virtual sports, finance and casino, thereby helping to secure their positions while switching up our marketing strategy to suit the ongoing situation. As more and more employees began working remotely, we thought of other projects to do for our office-based staff, who sewed 200 masks that were sent to Hospice Malta. Like this, we not only found a way to safeguard jobs, but also managed to give back to the community.
Thank you Mr Paul Scheuschner, Director Web International Services Ltd, for the presentation of 200 handmade face masks to be used by Hospice employees as well as patients.

Posted by Hospice Malta on Friday, June 19, 2020
3. We Went Virtual
When health officials began stressing the importance of working remotely to help stop the spread, we went ahead and allowed our employees to do so full-time. Home office has always been an option at WIS, so it was simply a matter of making it a more flexible option and ensuring that everyone had what they needed to work from home comfortably. Employees were even offered the possibility of taking office equipment home, including even heaters, fans, monitors and anything else that they felt could help them focus better. Meanwhile, those who had family or loved ones based in a different country were allowed to leave Malta immediately (before the airport was closed) and work from abroad if they wished to.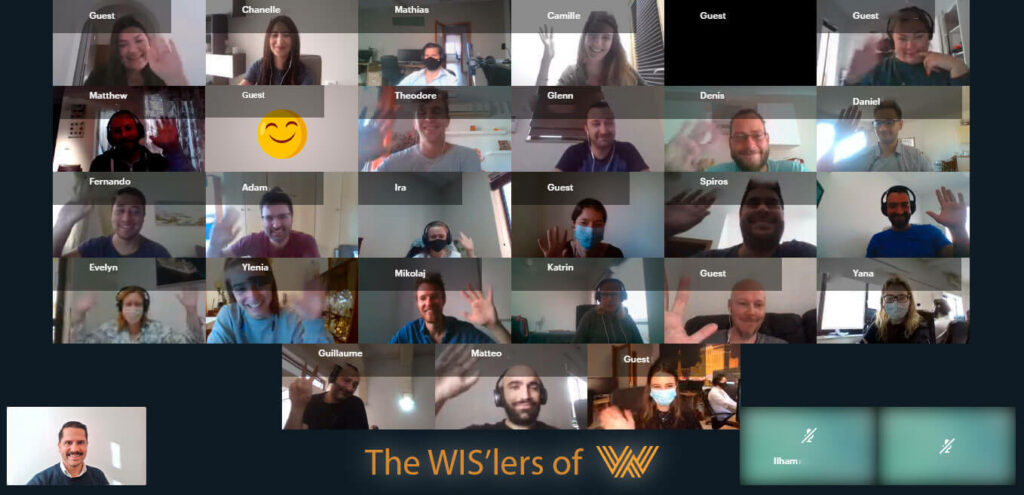 4. We Supported Each Other
Of course, working remotely calls for a new way of communication, which turned out to be a smooth transition thanks to processes we had already implemented a while before the virus hit. We continued using Slack, for example, to chat between ourselves and hold remote, company-wide meetings, even including an #onlinefun channel to boost morale and encouraging everyone to take part in silly challenges, such as a 'Quarantine Fashion Trends' contest and even online poker tournaments. HR also took their hiring and boarding process online for the first time ever, all the while succeeding at making newcomers feel welcome in the process.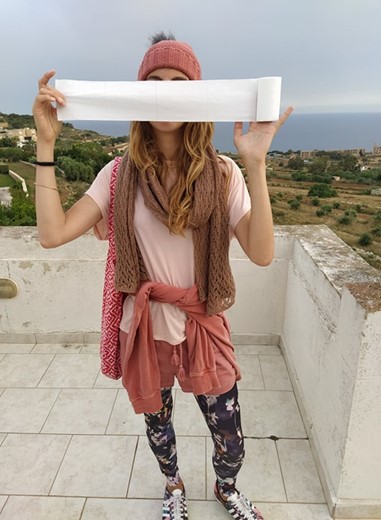 5. We Created a Safe Environment for All
In the case of employees eventually returning to the office (and for those who still went in from time to time of their own accord), our hardworking and dedicated People Department, Ira and Evelyn, made sure to follow safety guidelines outlined by the health authorities. Our Office Manager, Ilham, also placed hygienic products such as hand sanitiser dispensers and alcohol wipes in every room, as well as disposable paper towels in the kitchen and bathrooms. Reusable masks were also made available to whoever needed any, and disinfectant 'bombs' were released within the office after everyone had gone home. Desks were spaced out to ensure a safe distance between each individual, while thermometers were left at the two main entrances for employees to check their temperature.
Along with the above, we drew inspiration from Managing Director Laura Weisman, who came up with the idea of coloured wristbands for everyone to wear denoting the level of physical interaction they were comfortable with.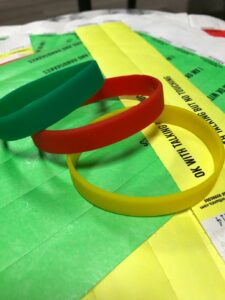 6. We Maintained an Open Channel of Communication
Once lockdown measures began to be lifted at the beginning of summer, we sent out a survey asking our employees about any conditions that would make them feel safe enough to work from the office again. Those who stated that they would prefer to continue working from home were (and still are) allowed to do so, while those who needed more flexible options due to family commitments chose to come in intermittently during the week. Throughout the lockdown, we realised that work had continued as normal, with productivity levels unaffected (and, in some cases, had even increased). Those who had families also mentioned improved work/life balance while working from home, especially parents with small children.
7. We Kept Calm and Carried On!
There's no denying that all of us felt a degree of uncertainty regarding things such as daily cases or government regulations; we were no different from anyone else in that we never really knew what to expect from one day to another. However, we were determined to proceed with everything that was planned pre-COVID, including promoting certain employees to heads of their respective departments, giving them the power to make greater contributions to the overall company strategy. This helped to heighten a sense of normality, and kept things moving forward within the company during a period of time when it would have been all too easy to hit the pause button.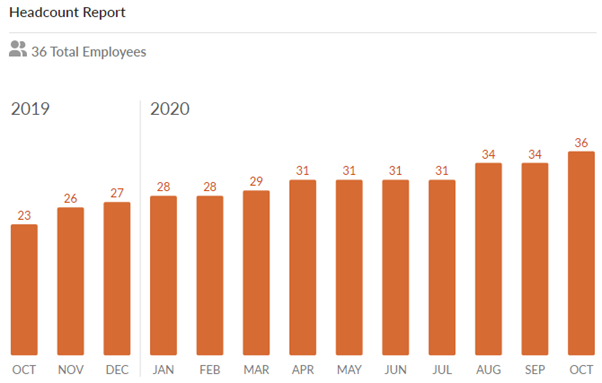 Onwards and Upwards: What Did We Learn?
Having a strong foundation in place – including fantastic financial and people management – is definitely a huge part of what helped us keep going during these challenging times. Learning what worked (and what didn't) is also what continues to propel us forward as a company that constantly puts its employees first. By successfully adapting to a 'new normal', we not only managed to overcome strange and unexpected circumstances, but have also found new ways of working and collaborating that will likely continue to be used in the future - such as the possibility of having a permanent home office in place for those who want it. To echo Grove at the beginning of this article, we do feel that we have come out of this even stronger than before, and are now more prepared than ever to face anything that comes our way.